Don't waste your time searching key code tables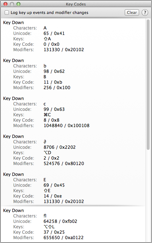 Key Codes is a little utility that displays the key code, unicode value, and modifier keys state for any key combination you press. If you're a developer, this might be useful to you.
Version 2.0 supports retina display Macs, adds a handy Clear button, and includes in-app updating for the directly-downloaded version.