Late in the day on March 1st, we received an explanation/apology from Dietmar Kerschner.
As far as we're concerned, the personal side of this matter is now closed.
Two days ago, we launched Name Mangler 3, our first major upgrade to the program in nearly three years. This update was user-driven, based on feedback we've been tracking since Name Mangler 2 came out. We focused on speed, the ability to perform more than one renaming action, and some user interface improvements. We're incredibly proud of what we built, and have been thrilled with the initial reaction.
Then yesterday, out of the blue, we received an email claiming we'd violated the copyright of another renaming application. We spent the afternoon researching the other app, and eventually sent an email response back to the accuser, clearly demonstrating our innocence through screenshots and app release timelines. (Name Mangler has existed in pretty much its current form since its initial debut as File List, way back in 2005.)
We thought that would be the end of it, because it was obvious there was no infringement. Today, though, we discovered that our accuser has gone public (despite not replying to our email) with these tweets: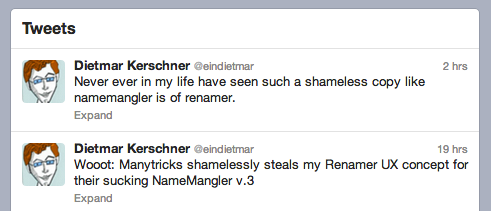 Now that we're being called thieves in a public forum, we feel we must respond in public as well: we cannot let Dietmar Kerschner trash our hard-earned reputation with baseless accusations that can't withstand even the most basic level of scrutiny.
A Brief History of Name Mangler presents our side of the story. There you'll find details on the development of Name Mangler, and that of Renamer(4Mac), the program whose designer has accused us of copyright infringement. Even a quick glance at the page will show that we've copied nothing from Renamer—if anything, we could claim that their latest release copied our design.
The purpose of this blog post, though, isn't to go through a comparison of the two apps. Instead, we'd like to focus on the impact baseless copyright violation accusations have on both developers and (potentially) end users.
The threat
This is the threatening email we received from Dietmar Kerschner:
To whom it ma concern

I am Dietmar Kerschner, the UI/UX designer of Renamer 4. You have choosen to steal my UX concept for namemangler 3 which is a breach of copyright which i own.
It is abvious that you have stolen every part of the concept of Renamer 4, which i have concepted years ago.
I will not accept such copyright abuse.

Please explain the situation and give a statement, otherwise i will have to forward this case to my lawyer.
You also would risk another abusement case which can be forwarded to incrediblebees laywers.

I recommend to act fast.

Cheers
Dietmar Kerschner
The above is reproduced verbatim, typos and formatting and all. Here's the actual email message, in case you think we might be making this up. Trust me, we wish we were.
Our response
Needless to say, this email made us extremely angry: we have never stolen a UI concept/design from anyone, ever, and we work incredibly hard on our user interfaces. There are literally thousands of hours of design work and rework in Name Mangler 3's user interface, and all of it was done internally, without ever looking at our competition.
We spend hours sweating the tiniest of details, often having pages-long Messages conversations about a one-pixel alignment decision. We care about this stuff, and we think it shows in the quality of our applications. So to be accused of interface theft hits us deeply, and it hurts, even when such accusations are false.
But what really got us mad was wondering how often this type of thing goes unnoticed and unmentioned, and the receiver of such a letter simply gives in under the threat of legal action.
Impact on developers
Between the two of us, we've now spent the better part of a full day on this project, gathering historical data for File List/Name Mangler (very easy, as we keep everything) and Renamer (much harder, given the name and ownership changes, and the lack of any sort of release notes) and preparing our response to Dietmar.
We've been Googling and taking screenshots and generally wasting time, proving something that we knew to be true going in. We called on friends in the software development business, to make sure we weren't overlooking something about our work that could lead to a copyright infringement claim. We reached out to fellow Mac developers, asking for their thoughts on the situation.
All of these things take time, and time is our most precious commodity. This is time that we could've been using to code, to respond to customer inquiries, to visit with family and friends, etc. All that time wasted, because of one threatening letter. And we took the time to respond. Imagine a smaller developer, with a greater fear of legal action. Instead of responding, they may start spending hours changing their app's appearance—all for no reason at all, beyond a threatening letter.
We love the software business, we love developing excellent products, and we love fair competition between developers: end users benefit greatly when two or more companies are building apps that do similar things. But trying to smother the competition with a baseless copyright violation claim? That's not how we play, and we don't think it's how the software business should work.
Impact on end users
You may think a developers' debate over copyright violations has no impact on end users. And if your timeframe is very short, you'd be right. But in a slightly longer run, time that developers waste on needless tasks takes away from the time they have to spend supporting end users, to write cool new apps, to update old apps, etc.
In addition, every time a copyright violation accuser forces an unwarranted change in an application, they're affecting the user experience. If an app is forced away from an ideal layout because someone claims it's "theirs," that's not good for users.
Threats may also dampen a developer's enthusiasm for developing in general; after all, it's no fun to spend hours defending your actions under threat of legal action. Irk a developer enough, and they may just decide it's not worth the hassle, leading to fewer applications available for end users.
Wrapping it all up
Are we arguing that copyright is unimportant, and developers should be free to steal from other apps without any negative effects? Certainly not. Copyright is very important, and violators should be called to the mat for theft.
In this case though, we've demonstrated that not only did we not steal, but that any theft may have very well been the other way around: Renamer 4's "new" interface bears a striking resemblance to one we've been using since 2005. But honestly, we don't care—we like competing on features, performance, and ease of use instead of with legal threats.
So what happens next in this dispute? We have no idea. In an idealized world, Dietmar realizes that he's wrong in his assumptions, and sends us his apologies for making a false accusation. The chances of that happening, though, are close to zero.
What we hope is that through exposing Dietmar and his threatening but groundless copyright violations email, he'll think twice before trying such an approach on other developers. This business is hard enough as it is without having to worry about such underhanded tactics.
Late in the day on March 1st, we received an explanation/apology from Dietmar Kerschner.
As far as we're concerned, the personal side of this matter is now closed.
Because we view the issue as closed, we've closed the comments.