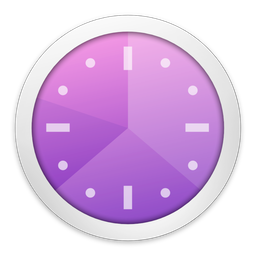 Time Sink 2 is out today—yes, it's a major update in version numbers, and no, it won't cost you a cent. That's right, Time Sink 2.0 is a free new major version, for both direct and App Store buyers.
Why free? Because all though we've done a ton of behind-the-scenes work to make Time Sink an even better time tracking app (so it's indeed a major upgrade to us), the user-visible new features may not feel like typical "oh wow this is a MAJOR update!" material to you. So instead of trying to justify charging for the upgrade, we decided to give it to everyone for free. (But hey, if you want to buy another copy or gift one to a friend, we won't mind—it's still just $5.)
So what's new in Time Sink 2? We won't bore you with all the many behind-the-scenes changes, other than to mention that Time Sink is now sandboxed, so we can add new features to the App Store version to keep it in sync with the direct version—hooray!
Here's the stuff you can see and work with as a Time Sink user:
Ad-hoc timers can be used to track non-Mac activities, such as phone calls or client meetings.
All timers can be paused via an assignable hot key, and can be set to resume automatically when activity resumes.
A pop-up menu at the bottom of the Activity Report window lets you easily select time frames like today, this week, this month, or this year.
Define the "start of day" time for the "today" Activity Report view. No longer must you start working just after midnight.
Use window title filters to merge windows from apps that include always-changing info in their window titles, as when Photoshop appends @50%, @75%, etc.
Exported reports can be opened in Time Sink to view historical data.
View time usage in the Organizer as percentages of total time instead of hours/minutes.
Finally, there are a couple of new themes for the Activity Report: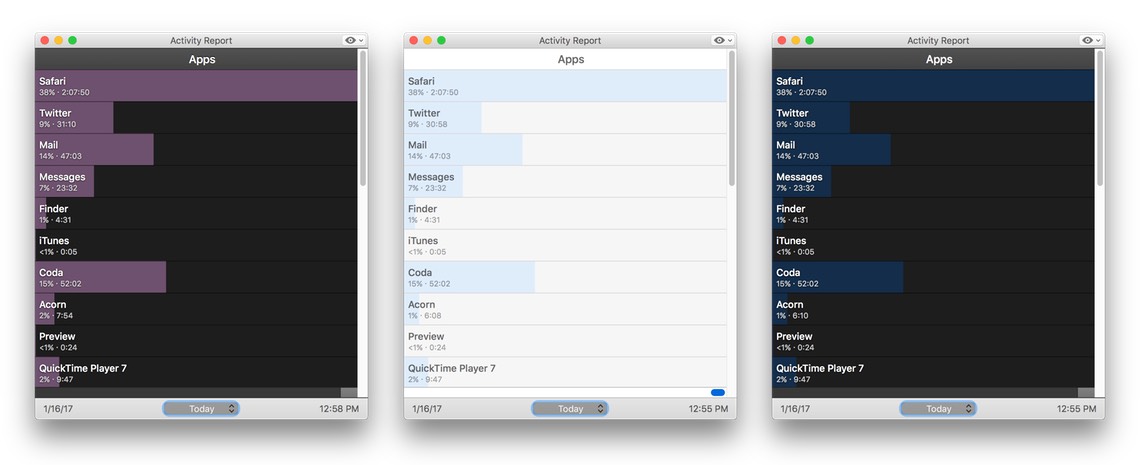 The original purple (left) is joined by light (center) and dark (right); the blue shown in the dark theme shot will be replaced with whatever you've set as your macOS highlight color (System Preferences > General).
How to update
Direct customers can get the update via in-app updating; App Store customers should see the update in the App Store app soon, if not already. (Just one note of caution: Time Sink 2 requires OS X 10.8 or newer; if you're on OS X 10.7, you'll want to stay with the original Time Sink. See the museum for links to older versions.)