Today we're releasing Desktop Curtain 3.0, a major upgrade to our solution to desktop clutter. First, the important bits about this release:
It's a free upgrade to all prior purchasers of Desktop Curtain. That's right, free. Just load up the App Store application, go to Updates, and install the Desktop Curtain update.
Desktop Curtain 3 is also available directly from us. Unlike the prior version, we're selling this one directly, as well as via the App Store. To purchase from us, just visit the Desktop Curtain page.
Desktop Curtain 3 will cost $5 ($4.99 in the App Store), but it's on sale through Sunday, May 27th for $1.99, the same price as the outgoing version.
So what's new and exciting in Desktop Curtain 3? A ton of stuff, including this lovely new user interface: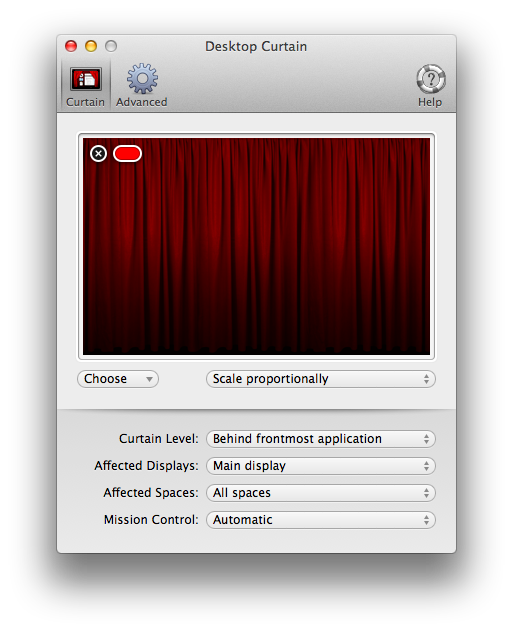 In addition to the reworked interface, Desktop Curtain 3 has these awesome new features:
Application isolation mode automatically places the curtain behind the frontmost application, letting you focus entirely on that program.
A global hot key provides even more isolation, placing the curtain behind everything except the frontmost window.
You can use the current desktop image as the curtain image.
If the curtain is covering the desktop icons, clicking the curtain will activate the Finder.
The curtain image is now translucent, making it simple to change the curtain's color.
New entries in the contextual menu (and in the program's menu bar menus, and in new Dock item menus) allow you to easily hide the curtain, or change the level at which it's displayed.
Desktop Curtain 3 represents a huge improvement in functionality over the old version, and it's available right now. You can download and use it for free (forever, if you wish) in a feature-limited mode, and then use an in-app button to purchase the full version when you're ready.