For those of you still running Name Mangler version 2—version 3 was released over six years ago—just a heads up that you'll have to choose between Name Mangler 2 and macOS Catalina when it ships this fall: Catalina won't support 32-bit apps, and Name Mangler 2 is a 32-bit app. Name Mangler 3, of course, is a 64-bit application, and runs fine in macOS Catalina.
So if you use Name Mangler and want to run macOS Catalina this fall, you'll have to upgrade to Name Mangler 3. How do you do that? The process differs depending on whether you originally bought Name Mangler 2 from us, or from the Mac App Store.
Direct customers
You can easily upgrade to Name Mangler 3 for just $9 by purchasing an upgrade license. Don't forget to also download Name Mangler 3. Copy the app to your Applications folder, then double-click the downloaded upgrade license file. This should launch Name Mangler 3, and show that you have a fully activated license. That's it.
App Store customers
If you bought Name Mangler 2 from the Mac App Store, you're first going to be faced with a decision: Do you want to upgrade to Name Mangler 3 via the Mac App Store, or directly from us?
(This guide explains the minor differences between the two versions of the app—the biggest difference is that the direct app is not sandboxed, so you won't see any "Unlock this folder?" dialogs when using the direct version.)
If you want to keep using the Mac App Store version of Name Mangler, you'll have to pay $19 for the full version from the App Store: Apple doesn't provide any way for us to provide discounts without changing the price for everyone.
If you don't mind switching to the direct version, you can save $10, as we can offer you the same $9 upgrade pricing that we offer to direct customers.
Note: You must have run the App Store version of Name Mangler 2 in order for this process to work. And because Name Mangler 2 won't run in macOS Catalina, that means you need to upgrade to Name Mangler 3 before you upgrade to macOS Catalina.
How do you upgrade to our direct version? Here's how…
Download our simple Crossgrade Assistant app, and launch it. It will launch and present a standard "file open" dialog. Navigate to the Applications folder, select Name Mangler 2, then click the "Choose App or Receipt File" button. If all goes well, you'll see this dialog…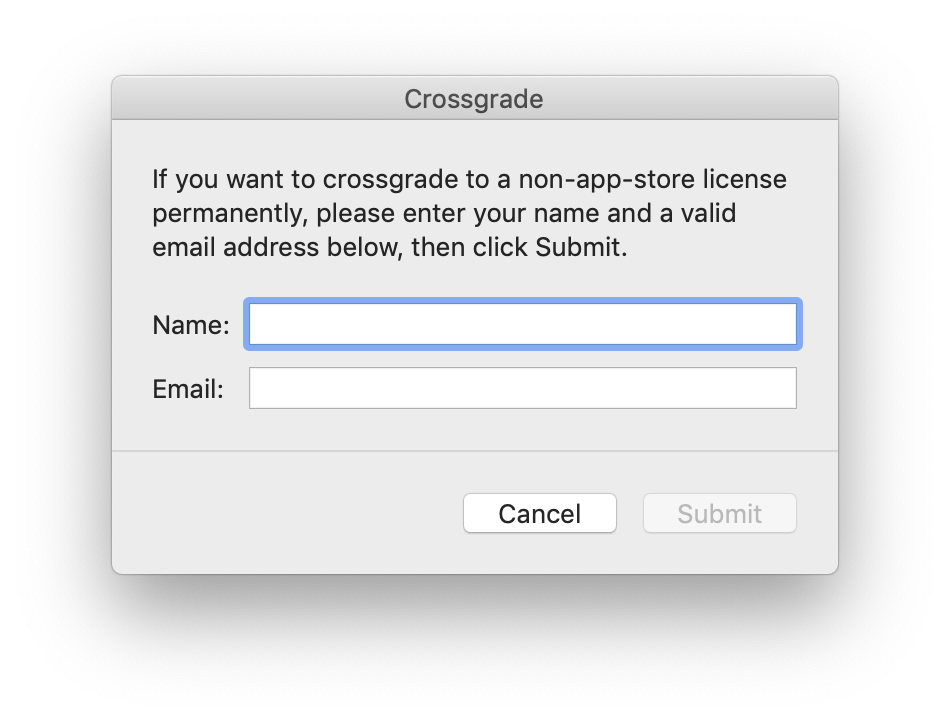 Fill that out with a valid email address—that's where your license file information will be sent—then click Submit. You'll then receive an email with a license file download link; download the license file and make a backup somewhere.
Now install Name Mangler 3, and archive (zip) Name Mangler 2—just in case the world reverts to 32-bit at some point in the future? Launch Name Mangler 3, then double-click the license file you downloaded. You should see this screen: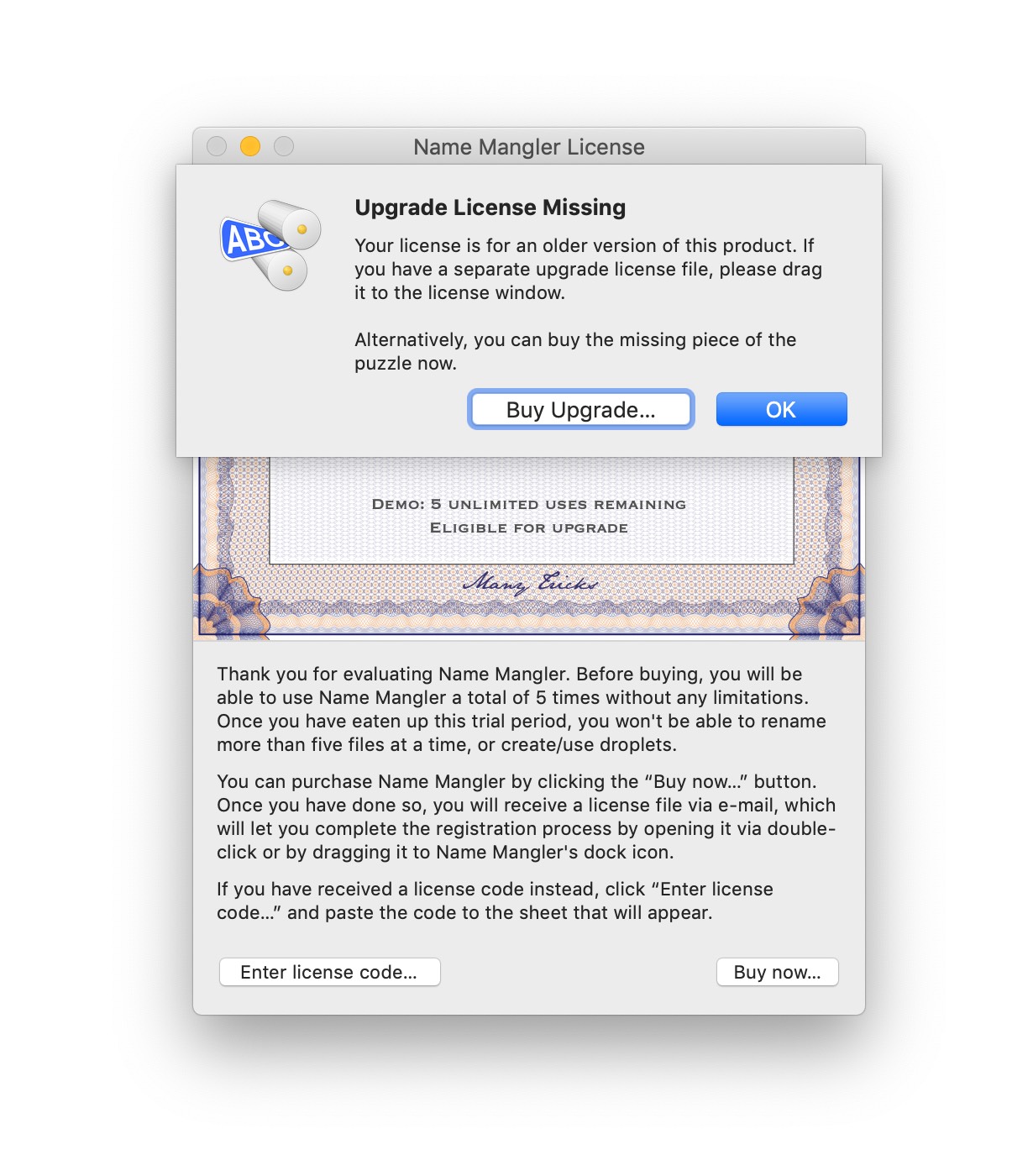 This shows that you've successfully converted your App Store license into a direct license for Name Mangler 2. From this point, you just need to purchase the $9 upgrade license, and you'll be good to go with Name Mangler 3.
If you have any troubles with this process, please open a support ticket and we'll get it figured out.