Over the course of the Yosemite beta, we've had a few reports of users not being able to make Witch work properly. If you've got this problem, you'll know, because you'll see this dialog every time you try to call up the Witch switcher panel: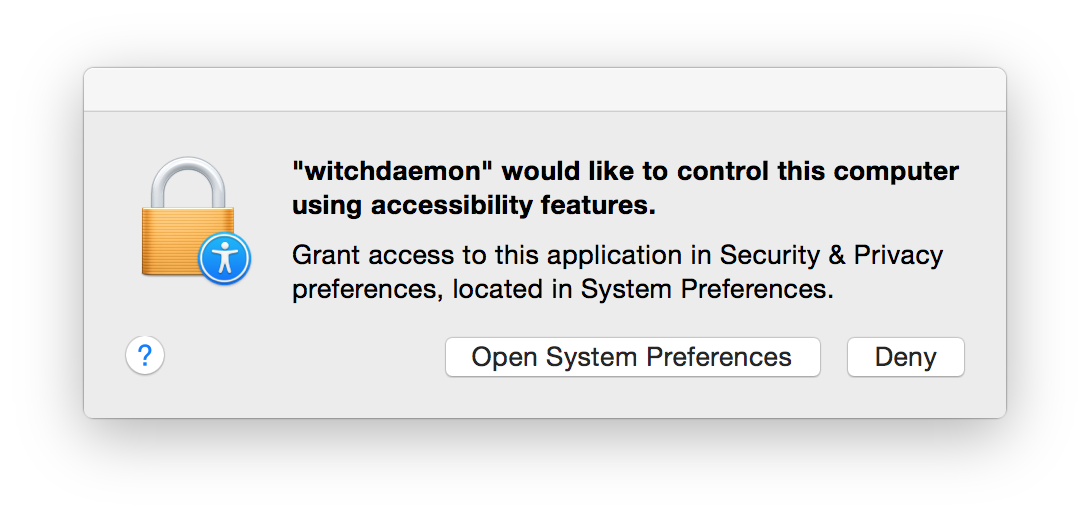 For the sake of search engines, the text reads:
"witchdaemon" would like to control this computer using accessibility features

Grant access to this application in Security & Privacy preferences, located in System Preferences.
You'll see that even after you think you've done what it asks you to do, and then you'll get frustrated and upset and angry and blame us and send me nasty emails. And I completely feel your pain. And I wish I could tell you that it's a bug in our code that's causing the problem, so that we could fix it. But it's not.
Instead, it's an issue with Yosemite and how it handles (or rather, doesn't handle) granting Accessibility access to helper apps that are included within another app's bundle. So as much as I'd love to tell you we're working on a fix, this isn't something we can fix. (We may be able to work around the OS X issue, which is what we're trying to do now. But that's not fixing the problem, it's avoiding the problem.)
The good news is that you can get Witch functioning again, even before Apple fixes the issue (or we manage to work around it). Here's how…