Our time-tracking app Time Sink relies on window titles to track your activities. This approach works great for most use cases, as window titles are supplied by the vast majority of apps out there, which means Time Sink is able to keep an eye on nearly everything you do.
But when browsing the web, relying on window titles can sometimes be problematic: Many sites don't include any site-specific information in their window titles. For instance, a news site may just have the title of the news article as the window title. So if you were interested in finding out how much time you spend on that news site, Time Sink apparently wouldn't be able to help, because there's no way to tell which site those news stories came from.
Other sites do include some site-specific data in their window titles, but what that is will vary by site, as well as where it appears within the window title.
The good news is that Time Sink can track site-wide time usage for both types of windows—it's relatively simple for sites that include site-specific data in their window titles, and it's somewhat more involved for sites that do not.
The relatively simple way
Some sites include a bit of unique information in each page's title, which makes tracking them simple. YouTube, for instance, appends " – YouTube" to every window title:

Any site that does this is easy to track with a pool, regardless of which browser you use. (This example assumes Safari.)
Drag any opened YouTube window (in Time Sink's Organizer window) to the Pools section of the Organizer window, and drop to create a new pool.
Expand the Safari (assuming you used Safari, of course) folder in the Pools section, then expand Safari (the app within the folder) to reveal the window title.
Select the window title and press Return to edit it. Change the window's title to * – YouTube and press Return again. The * is Time Sink's wildcard, and it means "match anything." In this example, it will match any number of characters that are followed by the " – YouTube" bit.
That's it; Time Sink will now add all time spent on any YouTube page (in Safari, at least) to that pool. In general, there are basically three versions of the window title that you could see. Here's how you'd edit each in a Pool to track the site in aggregate:
unique tidbit – words ==> unique tidbit – *
words – unique tidbit ==> * – unique tidbit
words – unique tidbit – words ==> * – unique tidbit – *
Related tip: If you want to track YouTube usage in any browser (actually, any app that can load web pages and includes page titles), right-click on the Safari application entry in the pool, then select Track Across All Applications: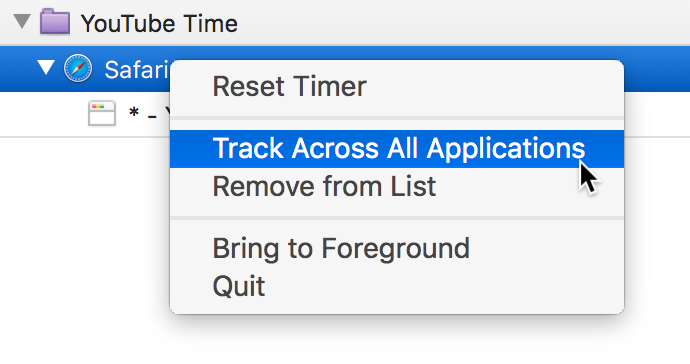 This will change the application name from Safari to Any Application, and now all your YouTube time will be captured in one pool. (Are you sure you want to do this!?) You can also, as seen in the screenshot, change the name of the pool to reflect that it's no longer Safari-specific.
So much for the simple sites…