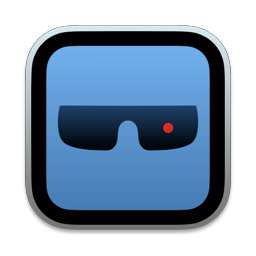 Meet Resolutionator, the newest entry in Many Tricks' stable of apps. Resolutionator makes it brain-dead-simple to switch the resolution on your display(s), and was developed with retina displays in mind (though it's perfectly functional on non-retina displays, too).
Like many of our other apps, Resolutionator came about due to an internal need—I use a 13″ retina MacBook Pro, and as crisp and gorgeous as that 1280×800 'retinaized' display is, that's just not a lot of room when working with lots of windows. As a result, I found myself constantly switching resolutions—I'd use a higher resolution when working on complicated projects, then switch back to the default retina resolution when browsing the web or reading email.
In prior versions of the Mac OS, switching resolutions wasn't a big deal—an optional menu bar icon provided quick access to any available resolution. But some years back, this feature vanished, never (at least so far) to be seen again. In its place is a convoluted process that requires launching System Preferences and clicking buttons. If you change resolutions once a week, it's not too bad…but if you change multiple times a day, it gets old, and fast.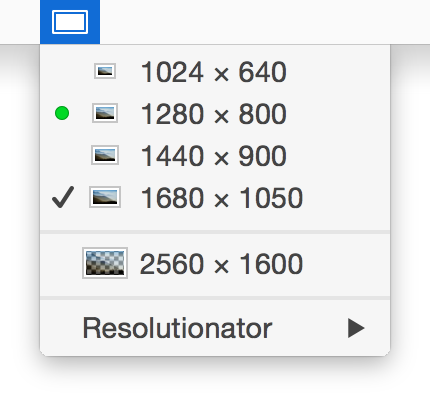 Enter Resolutionator, which recreates the old menu bar prompt to let you quickly change the resolution on any and all attached displays, as seen at right.
But Resolutionator goes well beyond the old stock resolution switcher.
You can assign a keyboard shortcut, and then switch resolutions via a pop-up menu. And whether you use a keyboard shortcut or the menu bar icon, Resolutionator lets you switch the resolution on all attached displays from the same location.
Want to conserve menu bar space? After assigning that keyboard shortcut, switch Resolutionator to faceless mode, and it runs completely invisibly, activated only when you press the assigned shortcut. (It can also run as a normal application, complete with Dock icon, if you prefer.)
Those features are useful, though not all that exciting. The exciting feature in Resolutionator is its secret superpower…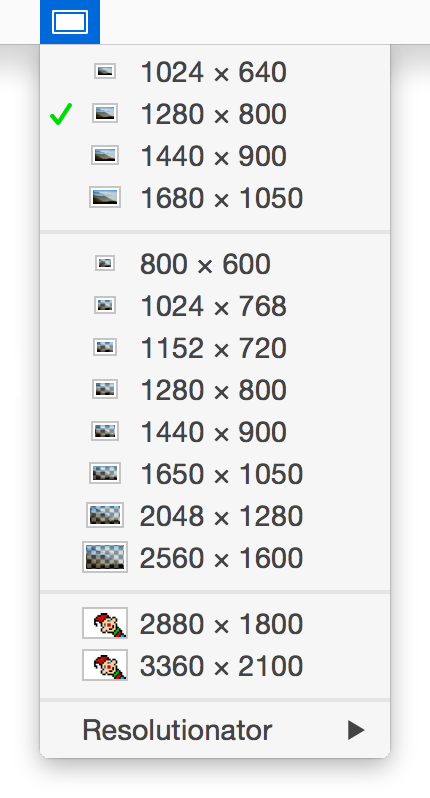 Resolutionator's secret (OK, it's not really secret) superpower is that it can offer you resolutions—including some that offer more pixels than your display contains—that OS X won't let you use.
On my 13″ Retina MacBook Pro, for instance, OS X's Displays panel lists four possible resolutions, ranging from 1024×640 up to 1680×1050.
Out of the box, Resolutionator shows me those four, plus a "native pixels" resolution of 2560×1600. When I enable the "show non-retina resolutions" option in Resolutionator, I see a total of 12 resolutions, including one (2048×1280) that I find very usable when I need screen real estate.
You can go further, if you wish: enable the "show silly resolutions" option, and you'll gain access to resolutions that are greater than the number of pixels on your display—the last two resolutions in the image at right show more pixels than are available on my MacBook Pro.
How does such magic work? OS X handles the hard part, scaling down the entire OS so you achieve the chosen virtual resolution. It may sound silly (hence the option's name), but it can be very useful: On my 11″ Air, which has a maximum resolution of 1366×768, Resolutionator will let me choose 1920×1080 (and higher, but those are ridiculously hard to read). Is it usable for reading emails or small-text web pages? Not really, but it's great for eyeballing a page layout without scrolling.
Anyway, there's more detail on the Resolutionator web page, so head over there, take a look, and download the free trial. If you like what you see (or see more of), a measly $3 will get you a license. If you switch resolutions a lot, we think you'll find Resolutionator an indispensable tool.